Relaxing in a bathtub is a luxury, and if you're looking for a luxurious bathtub look no further than the wonderful range that we have here at Pietra Bianca.
Each of our bathtubs are stunningly designed and make for wonderful additions to any bathroom. But even more importantly than looking great, our baths are produced from the highest quality materials and provide the best experience, while also being long-lasting and resistant to stains. With basins and bath fittings as well, Pietra Bianca are your go-to if you want a classy, exquisite bathroom that will stun your guests and make you feel like absolute royalty at home.
To find out more about the materials that we use to make our fantastic solid surface bathtubs, see below.
Pietra Bianca Material
Purestone
acrylic solid surface
bathtub
and sink are comprised of 100% acrylic resin (also known as PolyMathMech Acrylate or PMMA) and Aluminum TriHydrate (ATH). Purestone is a solid, no-porous, homogeneous surfacing material which has excellent properties such as high density, yellowing-resistance, and antibacterial, anti-staining, fire-resistant, heat resistant, chemical resistant, and impact-resistant. It is 100% acrylic solid surface or pure acrylic solid surface, the same material as world-famous brands of solid surface, the surface is normally dull/matt.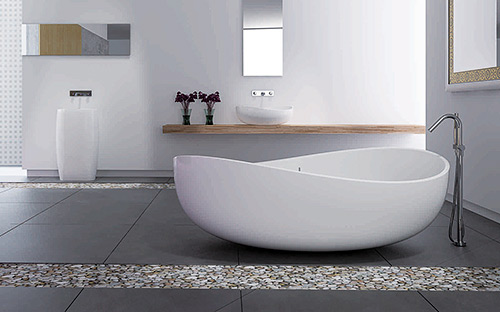 Westone
is consist of polyester and powder such as Aluminum TriHydrate(ATH), or calcium carbonate and sometimes with a surface of gel coat. The surface can be dull/matt, or glossy. It is the same material as modified acrylic solid surface, or solid stone (artificial marble, artificial stone).

About Pietra Bianca
At Pietra Bianca, we are passionate about creating luxurious bathroom spaces, and it shows with the magnificent bathtubs that we produce. With a Pietra Bianca bathtub installed in your bathroom, the only thing you need to worry about is running the risk of not ever wanting to get out of the bath!
For more information about our wonderful products, send us a message on our contact page. For sales enquiries, please don't hesitate to call Mary Holroyd directly on 0400 385 947, or Bradley Holroyd for technical support on 0424 670 104.